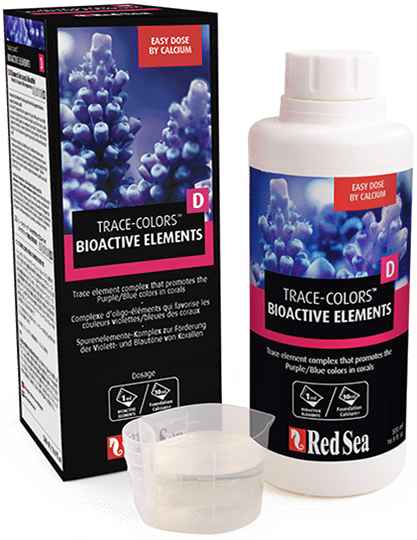 BIOACTIVE ELEMENTS Supplement is part of the complete range of complementary major, minor and trace element complexes which together provide the needs of corals.
These 18 elements (out of all the trace elements in NSW) participate in the metabolic processes inside a coral's skeleton and soft tissue, one of them being the production of the purple/blue pigments in the soft tissue of corals.
For best results in displaying Red Sea's Coral Colors D use in conjunction with Red Sea's NO3: PO4– X.
How much to supplement?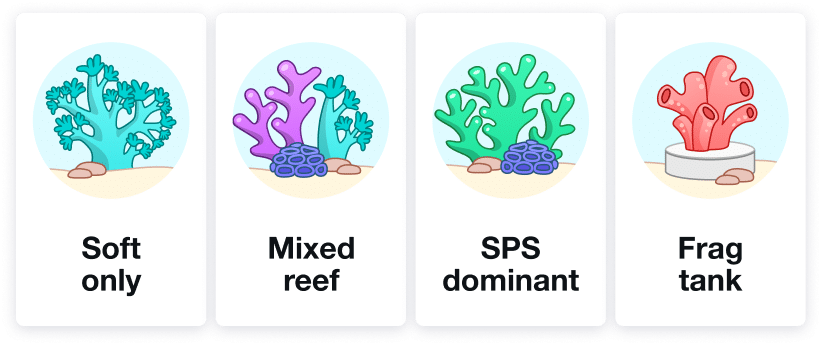 To easily achieve your reefing goals check out our new MyRecipe™ Wizard, which recommends the optimal water parameters, supplementing program and premium salt that is best for you.
---
Concentration
package size/volume:
100ml (3.83 fl. Oz.) included in Trace-Colors 4 pack
500 ml (16.9 fl. Oz.)
---
---
The Red Sea TRACE ELEMENTS Program's supplements family divides elements into four groups : TRACE COLORS A, B, C and D that are related by the biological functions they perform. They are also associated with the production of specific color pigments in the soft tissue of stony corals.
These pigments can only be produced if the specific elements required for the bio-chemical process are available in the correct concentration. All 31 elements are required by all stony corals irrespective of the actual color the coral displays.