Our new REEFER™ Peninsula and XXL systems bring reef keeping to a new level with new possibilities.
Packed with all of the advanced features of our REEFER™ line including new and improved sumps and cabinets, these new models are constructed to quality standards that are world class and provide an ideal solution for any hobbyist looking for a larger, more sophisticated reef system.
REEFER™ Peninsula
If you're looking to add the distinctive beauty of a Peninsula-style coral reef aquarium to your home or office, you don't need a custom-built system to do so. Red Sea's new REEFER™ Peninsula brings color and ambiance to any living or office space at a fraction of the cost of a custom installation.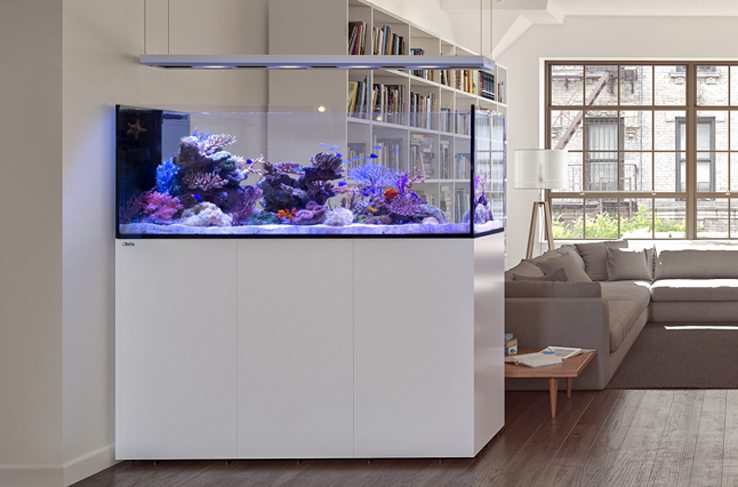 Available in 125cm (49.2″) long/ 500 liter (132 gal) or 160cm (63″) long/650 liter (173 gal), the REEFER™ Peninsula offers an impressive and elegant room divider solution with all of the features of our advanced REEFER™ systems. A rimless, ultra-clear glass coral reef aquarium is formed into a perfect peninsula that gives you a fascinating view from all three sides, adding complexity and intrigue to any reefscape.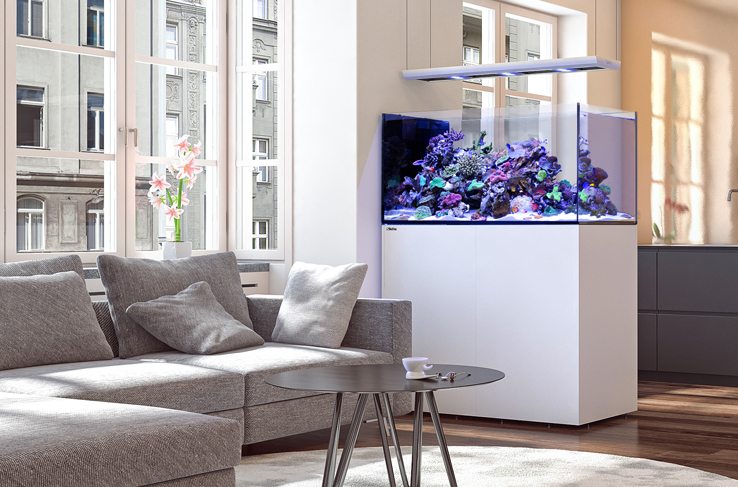 These 60cm (23.6″) high aquariums are set on stylish yet heavy duty cabinets with epoxy painted finish on both sides. The cabinet includes a dedicated ventilated compartment for chiller and control systems and the doors may be assembled on either side of the cabinet to suit the layout of the room.
The REEFER™ Peninsula is also available in a Deluxe configuration incorporating the Hydra 26 HD LED lights with Red Sea's customized hanging system.
The unique design of the Peninsula with the overflow system at one end of the aquarium instead of at the center also makes it ideal for a room corner installation.
---
REEFER™ XXL
Due to popular demand, Red Sea now offers even larger REEFER™ systems, upsized from the current REEFER™ XL series to give you unlimited aquascaping options.
The new XXL REEFER™ models are 65cm (25.6″) wide and 60cm (23.6″) high and are available in 150cm (59″) long/625 liter (165 gal) capacity or 180cm (71″) long/750 liter (200 gal). These are impressive full-sized reef systems that give you the freedom to create more intricate and diverse reefscapes without the constraints of smaller tanks.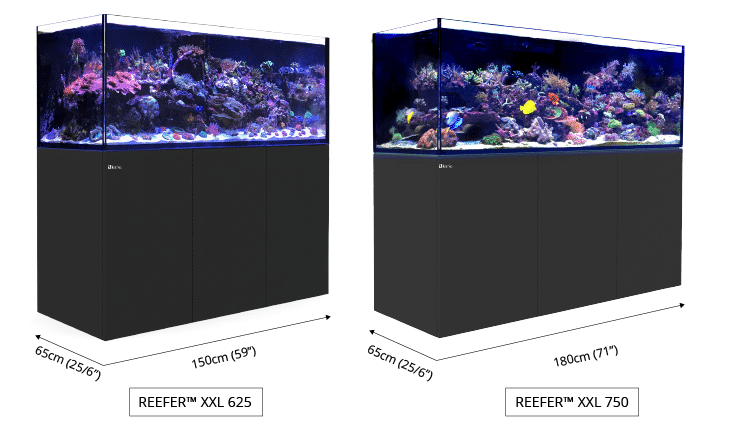 The XXL models are constructed using 19mm (3/4″) ultra-clear glass for both strength and viewing quality and have all of the same great features as the current REEFER™ range.
The Marine Spec cabinets maintain the elegant display of the REEFER™ series but feature extra durable construction with heavy duty HPL coated plywood for greater water resistance. The feet are fully adjustable for perfect levelling on any surface.
The REEFER™ XXL models are also available in a Deluxe configuration incorporating the Hydra 26 HD LED lights with Red Sea's bespoke mounting system.
The REEFER™ Peninsula and XXL series have advanced sumps with the following exciting new features:
An adjustable height skimmer chamber, enabling you to set the water level (between 21-27cm / 8.3″-10.6″) for optimal skimmer performance.
A "Refugium Ready" sump with two pre-set positions allows you to decide how much of the sump you want for your skimmer and other reactors and how much as a dedicated refugium chamber.
4 micron filter bags
Larger RO liter reservoirs that can be slid aside when necessary for pump maintenance.
The REEFER™ Peninsula and XXL Series – what's included:
Rimless, ultra-clear, 60cm (23.6″) high glass aquarium
Elegant Marine-Spec plywood cabinet with levelling feet
Refugium-Ready sump with adjustable height skimmer chamber and micron filter bags
Integrated automatic top-up with reservoir
Silent, regulated down-flow system with emergency overflow
Assembly-ready piping – no gluing required
---
REEFER™ Peninsula & REEFER™ XXL Technical Data
Peninsula 
XXL
Specification
500
650
625
750
Main Features
Ultra clear front and side glass
✔
✔
✔
✔
Ultra clear front glass thickness (mm)
15 (5/8″)
19 (3/4″)

19 (3/4″)

19 (3/4″)

Built in surface skimmer
✔
✔
✔
✔
Integrated automatic top up system
✔
✔
✔
✔

Deluxe Features 

AI Hydra 26

™

HD (90W)

3 units
4 units

3 units

4 units

System Volumes
Display tank water volume (L)
398 (105 gal)
528 (140 gal)

502 (133 gal)

602 (160 gal)

In cabinet sump water volume (L)
102 (27 gal)
134 (35 gal)

123 (32 gal)

150 (40 gal)

Total system water volume (L)
500 (132 gal)
662 (175 gal)

625 (165 gal)

750 (200 gal)

RO reservoir volume (L)
22.5 (6 gal)
28.5 (7.5 gal)

2

8.5

(7.5 gal)

2

8.5

(7.5 gal)

System Dimensions
Display tank length (cm)
125 (49.2″)
160 (63″)

150 (59″)

180 (71″)

Display tank height (cm)
60 (23.6″)

60 (23.6″)

60 (23.6″)

60 (23.6″)

Display tank width (cm)

60 (23.6″)

64 (25.2″)

65 (25.6″)

65 (25.6″)

Total system height with cabinet (cm)
160 (63″)
160 (63″)

148 (58.3″)

14

8

(58.3″)

Sump Dimensions

Water height (cm)

 21-27

(8.3"-10.6″) 

 

 21-27

(8.3"-10.6″) 

 21-27

(8.3"-10.6″)

 21-27

(8.3"-10.6″) 

Skimmer chamber (cm)

41X51

(16″X20″)

59X51

(23.2″X20″)

 51X51

(20″X20″)

71X51

(28″X20″)

Pump chamber (cm)

 26X28

(10.2″X11″)

 

 33X28

(13″X11″)

 33X28

(13″X11″)

 

 33X28

(13″X11″)

Recommended Return Pump
Recommended flow (lph)
(pump not included)
6000
(1600 gph)

7

000




(

185

0 gph)

6

000




(

160

0 gph)

7000
(1850 gph)
New Special Features
Adjustable Height Skimmer Chamber
✔

✔

✔

✔

Refugium Ready
✔

✔

✔

✔

Heavy Duty levelable Plywood Cabinet
✔

✔

✔

✔
**This product is protected under Community Design 003003474, US Serial No 29/555,022 and Chinese Design Application. No. 201630060633.1**