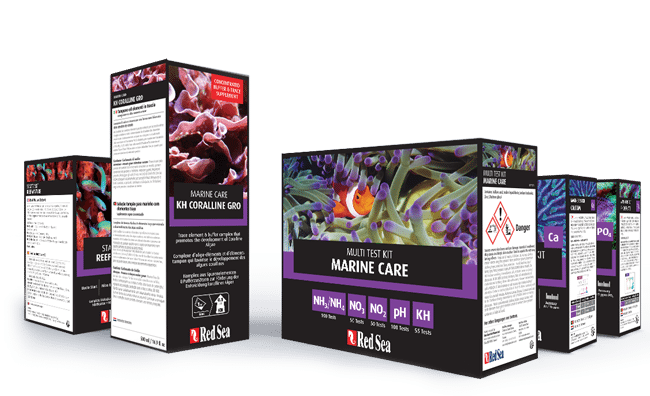 Red Sea's Marine Care Program includes supplements and easy to use tests for the ongoing maintenance of Marine Fish systems as well as a complete program for the biological maturation of all marine and reef aquariums.
Regular 10% weekly water changes will maintain the correct balanced levels of all elements apart from the alkalinity in a fish only system. However, if you wish to promote coralline algae you will also need to replenish a few specific trace elements. The other main concern for the success of a marine tank is to keep algae nutrients (nitrate & phosphate) under control in order to prevent out-breaks of unwanted algae.
Red Sea's Marine Care Program provides a natural biological solution for the control of nuisance green algae as well as a choice of alkalinity supplements with or without the trace elements to promote the colorful coralline algae.
The program also includes a full suite of easy to use, accurate tests for the ongoing maintenance of Marine Fish systems, specifically for the dosing of the KH/Alkalinity and algae control supplements.
Check out the Marine Fish Recipe for full details of the recommended water parameters and the products required to maintain them.
Complete biological cycling of all new marine and reef systems creates stable conditions necessary for their long term success. Red Sea's Tank Maturation program combines the Marine Care test kits with a unique pack of supplements for the complete cycling of all new tanks within 21 days.